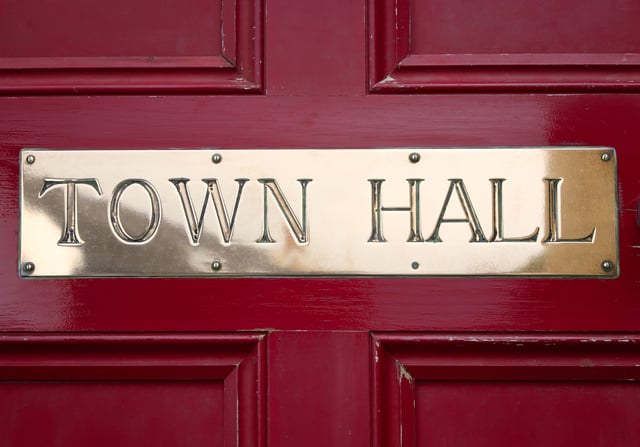 When you hear the words "Town Hall", you may think of a space that is dedicated for local citizens to discuss and vote on issues of importance to their communities. In the physical sense, Town Halls are typically used for meetings, community events, recreational activities, and even minor offenses court. If the town has representative government, the town council will meet in the building. Other officials may be located there as well.
From an organizational standpoint, wouldn't it be great if all of these services and then some could take place in a virtual event that engages community members while allowing official employees access to leadership capabilities?
A Virtual Town Hall offers just that - A secure online event that promotes numerous opportunities to foster a sense of community similar to that of how a physical town hall functions. Just think, organizational leaders and their committees would never have to vie for space to hold meetings and events because they could occur simultaneously. Not only that, but important content can be shared without the expense of travel and time wasted. All virtual events can be accomplished in real-time or at your pace and convenience instantaneously, from anywhere, locally or globally.
The value of implementing a Virtual Town Hall is immeasurable. For example, most employees will never have the opportunity to directly engage with the CEO, COO, or CRO. There may also be a misperception that the executive team is out of touch with what's really going on in the trenches of their organization. Modern networking tools, such as webinar applications and video conferencing, make connecting with all levels of an organization seamless. A Virtual Town Hall bridges the gap between departments to ensure that all voices are equally heard.
In a nutshell, creating a Virtual Town Hall allows organizations to:
Schedule and regulate meetings that include powerful engagement tools.

Provide employees with an inspiring and immersive environment through polling, chat functionality, Q&A, and surveys.

Create brand awareness and support while showcasing leadership goals through video conferencing and webinar tools.

Offer resources, such a library, to serve as a shared repository for important content and downloadable materials.

Share highlights and recognize exceptional leadership contributions and mentorships with other community members near and far.

Track how organizational goals have evolved over time through detailed analytics that provide real-time and post event data, including attendance expectations, follow-ups, and professional development.
Virtual Town Halls save time and money, engage employees, and add to brand loyalty while offering all levels of an organization access to leadership tools. With 6Connex's virtual event platform, your organization can construct a secure, Virtual Town Hall that fosters a sense of community while addressing crucial, time-critical issues. 6Connex's flexible virtual event platform allows your Virtual Town Hall to be customized to include rooms tailored for specific content and VIP access areas, such as for Board Members only. Additionally, 6Connex offers a myriad of virtual conferencing and social networking tools to enhance the flow of communication, operations, marketing strategies, and business matters for more effective collaboration.
For more information, visit www.6connex.com.